Getting your Affairs in Order: A Legal Checklist for Older Clients
06/09/2023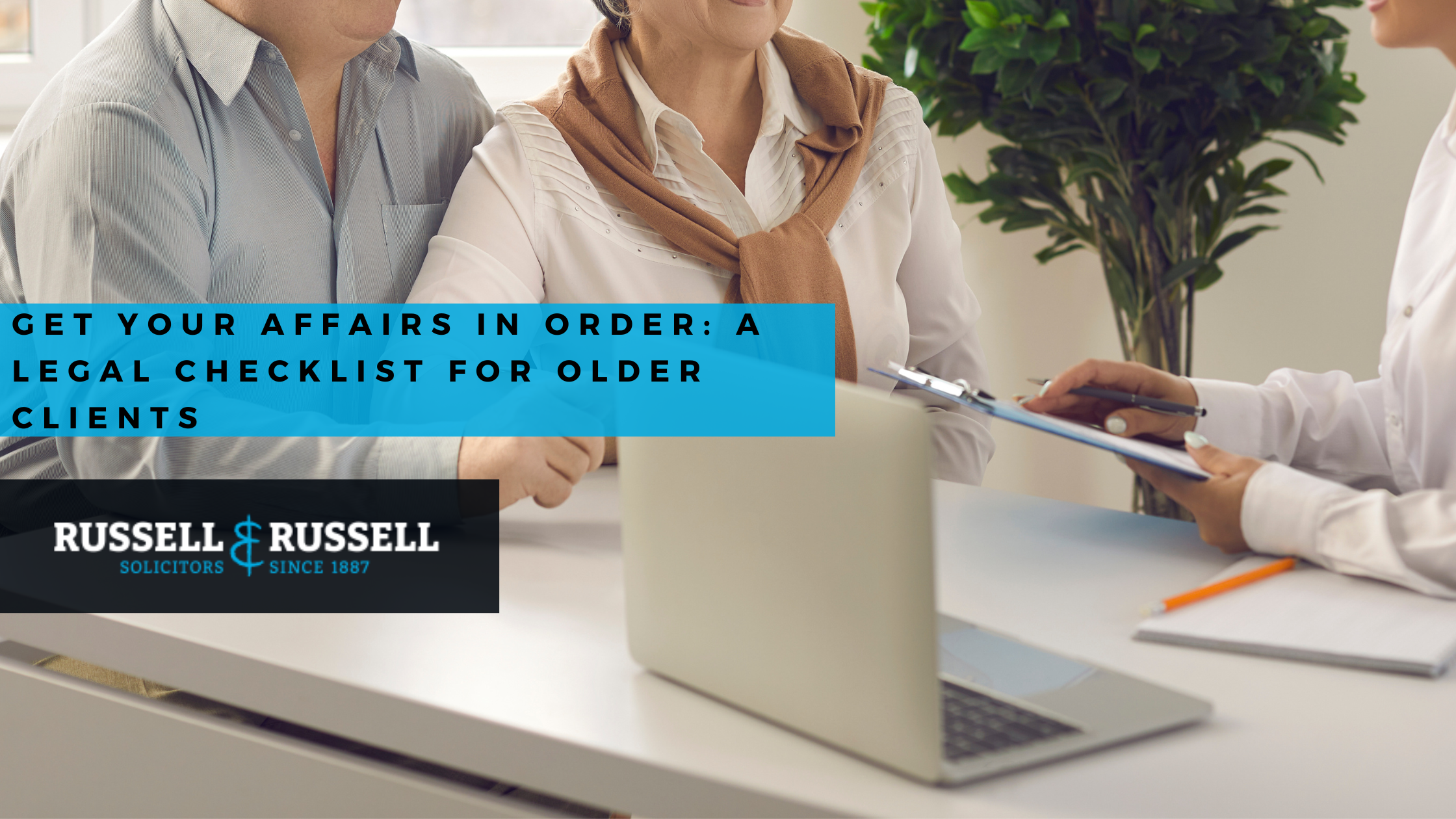 As we get older, it becomes more important than ever to us that our affairs are in order and that we have done all we can legally to protect ourselves and our loved ones.
In this blog, our Wills and Probate team look at the key legal documents that elderly clients should consider having in place to ensure much-needed peace of mind.
1. Will.
A will is one of the most important legal documents that everyone should have – regardless of their age.
Having a valid will ensures that you leave your money and possessions to the people you want to benefit from them. Dying without a will can make the administration of an estate more complicated as it means that the law decides who inherits your assets under the rules of intestacy.
Writing a will is not straightforward unless you are assisted by a solicitor. Although it can be tempting to do it yourself through an online template, or attempt to save money by choosing an unregulated will writer, this can be risky and can often result in mistakes that can prove costly.
An experienced solicitor will be able to ensure that a will is drafted correctly and accurately reflects your wishes.
It can help to bear the following things in mind before drawing up a will:
Understand your estate. It can be helpful to have a clear understanding of your assets (such as savings, pensions, property, life insurance policies, and investments) that belong to you. You should also consider any debts or other liabilities, such as mortgages.
Decide on your beneficiaries. For many, the main benefit of will writing is deciding who gets what when you're gone.
Appoint an executor. An executor's role is to make sure your wishes are carried out as you intended. Most people choose a family member or a close friend, although a solicitor may also be able to help.
2. Lasting Power of Attorney (LPA).
An LPA is a document that allows someone (an 'attorney') to make decisions for you if you are no longer able to. It gives you more control over your future if you have an accident or suffer from an illness that results in you losing mental capacity.
There are two types of LPA:
Property and financial affairs. This gives an attorney the power to make decisions about your property and finances, including paying bills, selling your home, collecting a pension, or managing a bank or building society account.
Health and welfare. This LPA enables an attorney to make decisions involving your health and welfare, such as about your medical care, moving into a care home and your daily routine.
A property and financial affairs LPA and a health and welfare LPA come into effect if you lose mental capacity or no longer want to make decisions for yourself.
LPAs replaced Enduring Powers of Attorney (EPAs) in 2007. However, any EPAs created before this date are still valid and can still be used, but it is worth reviewing them to ensure they are up to date. A solicitor will be able to advise you.
An Ordinary Power of Attorney can also be useful in some situations. This covers decisions about your financial affairs and is valid while you have mental capacity. It can be used on a temporary basis, for example, if you are in hospital and need help paying your bills.
3. Lifetime Trust.
A living trust is an estate planning tool similar to a will, but comes into effect before your death. You can place assets such as property, savings and investments into a living trust, and name beneficiaries, although you retain complete control of the assets within the trust while you are alive and have mental capacity.
There can be many benefits to living trusts, for example, in mitigating tax or avoiding having to sell your home to pay for care fees, but they are not without risks, and specialist legal advice is vital.
4. Advance Decisions (Living Will).
An advance decision or 'living will' states your end-of-life healthcare decisions by allowing you to refuse certain medical treatments in future.
It becomes relevant at such a time when you are unable to communicate your own decisions.
For a living will to be legally binding, it must:
Everyone's circumstances are different, and priorities vary, which means that what is right and important for one person, may not necessarily work for another.
Protecting yourself, your loved ones, and your assets is not straightforward, and there is no 'one-size fits all' solution.
If you want to discuss how to protect your assets, make an appointment to speak to us. It's free and there's no obligation, so you'll have a better idea of what your options are.
Solicitor for Elderly Client
At Russell & Russell, we help elderly clients ensure they have their affairs in order by offering legal advice and support in several areas related to estate planning.
We're accredited by the Law Society's Wills and Inheritance Quality Scheme, which sets the benchmark for best practice and transparency in the provision of wills and estate planning services.
All the department's solicitors are qualified members of Solicitors for the Elderly, an independent organisation of legal advisers who provide specialist legal advice for older and vulnerable people, their families and carers. The department is also a dementia-friendly business.
Russell & Russell have offices stretching across the North West – three in Bolton and one in Atherton, Bury, Chester, Farnworth, Horwich and Middleton.
Although we pride ourselves on being a regional firm, a number of our departments service clients throughout England and Wales.
To speak to our Wills team, please call 0800 103 2600 or make an online enquiry.
Please note that this article is meant as general guidance and not intended as legal or professional advice. Updates to the law may have changed since this article was published.