Why Use a Solicitor to Write Your Will
23/08/2023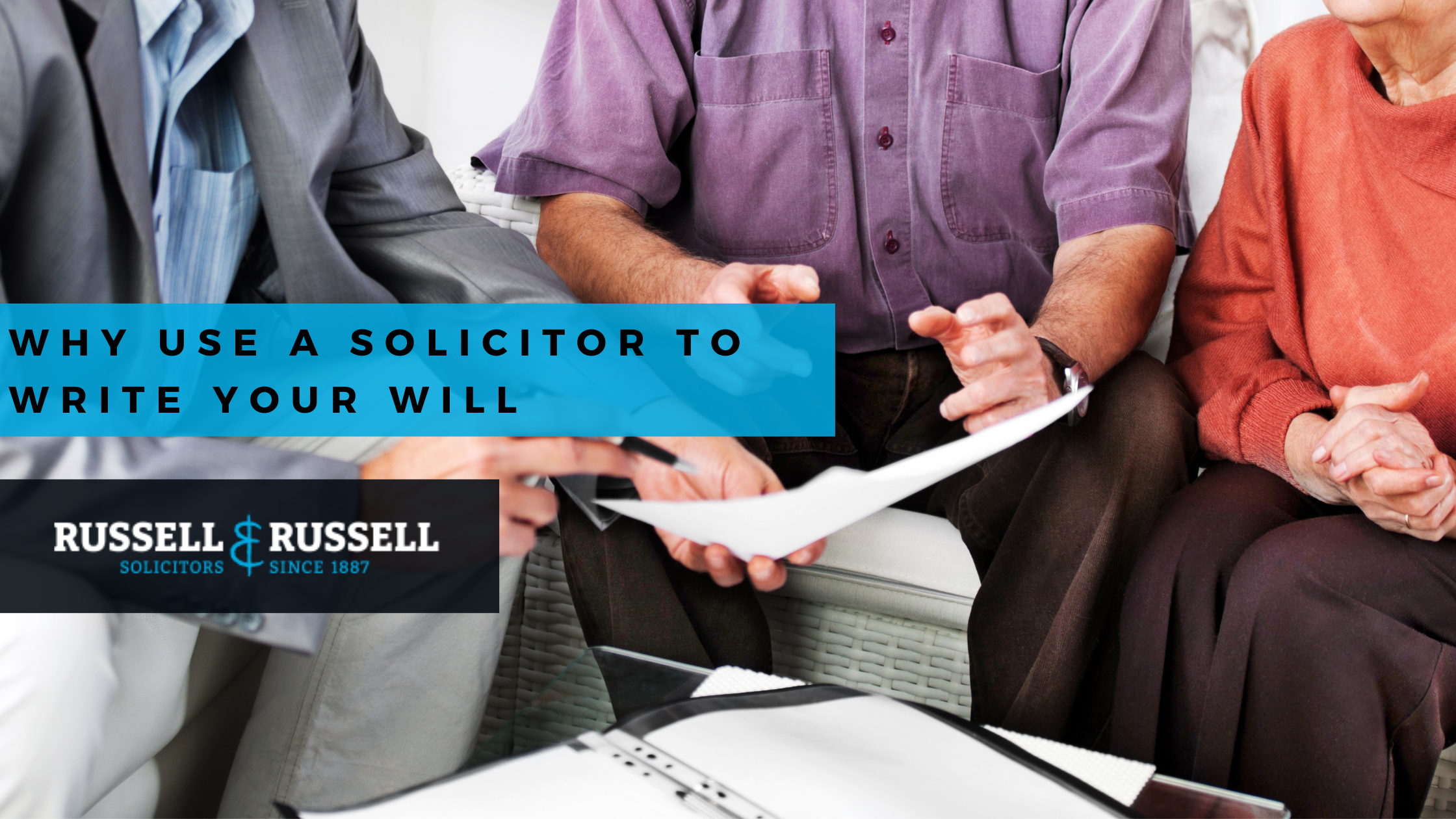 The perils of using an uninsured and unregulated will writer have again been highlighted in a recent report, with the service provided lacking the protection afforded to clients by the regulation and insurance cover provided by a solicitor.
In addition to the consumer protection they provide, regulated will writing solicitors have the legal knowledge, qualifications, and experience to help you avoid common mistakes that could invalidate your will. The regulatory protection of a qualified legal professional also ensures your will is drafted correctly so that after you die your assets and possessions go to the people and organisations you choose.
By choosing a regulated solicitor, you can also be assured that they adhere to the regulatory obligations to ensure accountability, ethics, and competence in the provision of legal services.
The Solicitors Regulation Authority (SRA) commissioned the report to better understand the unregulated legal services market, which is estimated to make up around 6–8% of the total legal market turnover.
The study has highlighted concerns over some providers of unregulated legal services, with 'rogue traders' concentrated in the will writing sector offering lower quality service with no regulation.
Legal services can be provided by both regulated and unregulated providers in England and Wales. Lawyers and organisations carrying out any of the six reserved activities set out in the Legal Services Act 2007 (LSA) must be regulated by an approved LSA regulator.
These law firms and legal services providers are subject to additional oversight and rules, including codes of conduct and mandatory purchase of professional indemnity insurance, that apply to the reserved activities they offer and other services outside of these activities.
However, there is also a broader set of unreserved legal activities which includes many common legal issues that businesses and individuals may face. These unreserved areas include most legal work relating to consumer issues, housing issues, family law, employment law, and wills and estate administration.
There is no restriction as to who can offer unreserved legal services and no requirement that providers are regulated by an LSA regulator or have formal training or qualifications.
The report found that at least 3,800 unregulated providers are currently operating in England and Wales, with around a quarter (930) concentrated in will and estate administration work.
Providers of both regulated and unregulated services expressed their concerns that some 'cowboys' or 'rogue traders' were operating in the legal services market who took advantage of consumers, delivered bad advice, and created a bad reputation for the market as a whole.
The report said that legal service providers agreed some regulation or accountability and requirements should be imposed to minimise the bad operators.
Unregulated service providers can lack the qualifications, experience, and control to safeguard clients' interests. There are also concerns over the lack of consumer protection offered by unregulated will writers and other providers operating in the unreserved sector.
Paul Philip, SRA Chief Executive, said: "Past research shows that regulated providers are more affordable than many people think, so the real distinction between regulated and unregulated providers is the consumer protection available. Our clickable logo, which the firms we regulate must display, is designed to make that clear."
Regulated professionals must have professional indemnity insurance, which provides an extra layer of protection for clients in the event of any errors or negligence. This consumer protection is not a requirement for unregulated will writers.
Regulated Will Writing Solicitors
Russell & Russell Solicitors is regulated by the SRA, and our wills and probate department has extensive experience in will writing, probate and asset management.
We are also accredited by the Law Society's Wills and Inheritance Quality Scheme, which sets the benchmark for best practice and transparency in providing wills and estate planning services.
Moreover, all of our Wills and Probate team are qualified members of Solicitors for the Elderly, an independent organisation of legal advisers who provide specialist legal advice for older and vulnerable people, their families and carers. The department is also a dementia-friendly business.
To find out more about our experienced team of wills and probate lawyers and legal advisers, please click here.
Please note that this article is meant as general guidance and not intended as legal or professional advice. Updates to the law may have changed since this article was published.