Talk Money Week: Opening up About Your Estate Planning
06/11/2023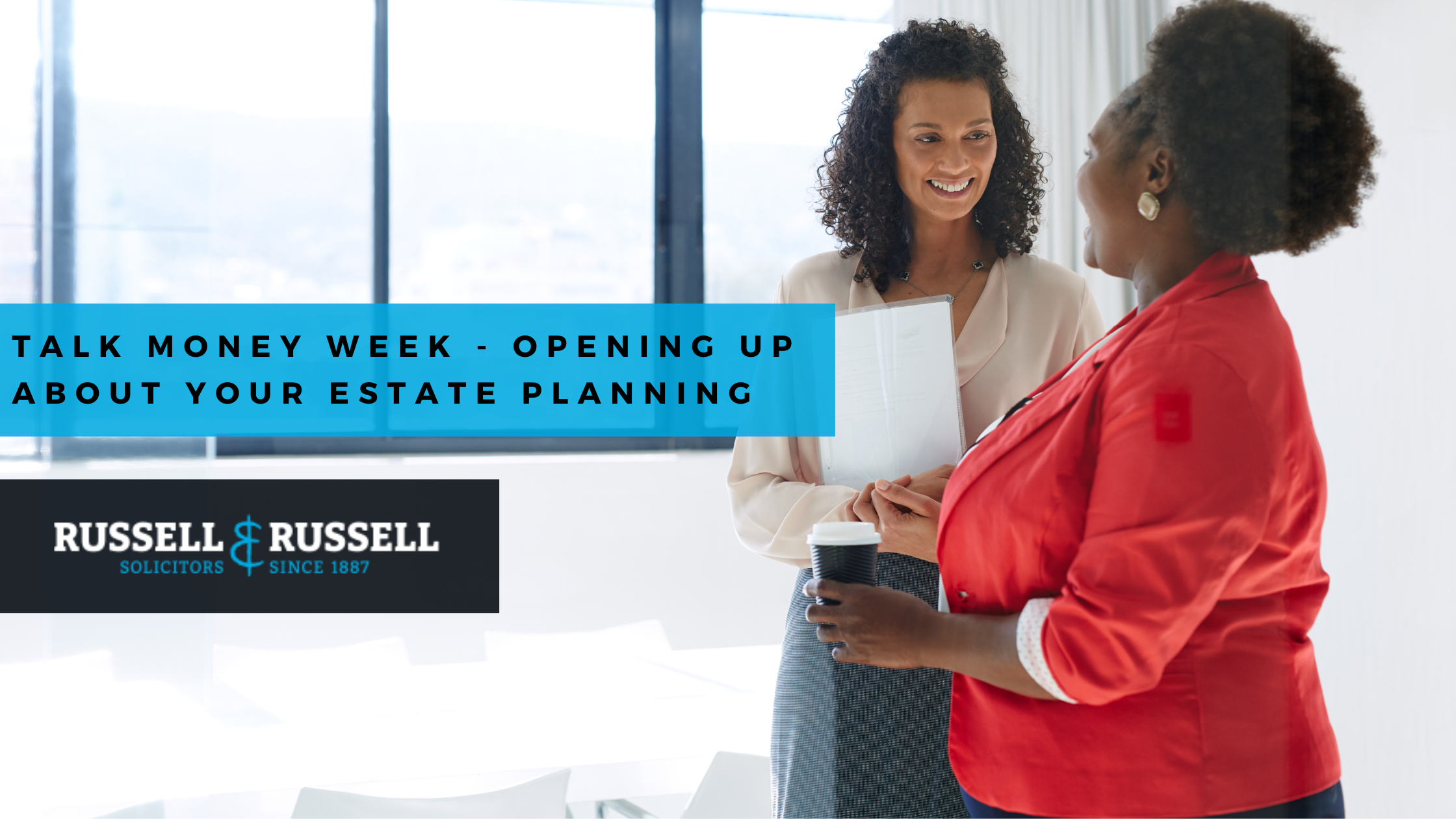 Conversations about money are not easy. It can be difficult to know how to start a discussion about what is still considered by some to be a 'taboo' subject, and many people can be unwilling to engage or disclose information about their finances, even to their closest family members.
In a bid to overturn such reluctance, the government has launched an initiative called 'Talk Money Week', which is intended to encourage people to have more open conversations about money.
Talk Money Week is headed up by the Money and Pensions Service, and the now-annual event runs from 6–10 November 2023.
According to the Talk Money Week website, there are numerous advantages associated with talking about money. Research shows that people who engage in discussions about finances:
Make better and less risky financial decisions.
Have stronger personal relationships.
Help their children form good lifetime money habits.
Feel less stressed or anxious and more in control.
Building money conversations into our everyday lives also helps us develop financial confidence and resilience to face whatever the future throws at us.
The role of a solicitor in facilitating conversations about finances and protecting your assets can be invaluable. Russell & Russell provides individuals with specialist advice and guidance in many different areas of law to ensure a joined-up approach to estate planning.
Our professional and friendly team of private client solicitors have extensive experience drafting Wills, setting up Lasting Powers of Attorneys (LPAs) and providing tailored solutions to ensure you and your family are protected at every stage of your life.
For more information about our services, or to speak to one of our specialist team, call 0800 103 2600 or make an online enquiry.
In this blog, we consider how to speak to your loved ones about your wishes for the future.
1. Think of a starting point.
Launching unannounced into a conversation about your Will or future plans without warning can take people by surprise and put them immediately on the back foot, potentially ruining the chances of an open conversation before it starts.
It can be helpful to introduce the topic of your Will or what you intend to do in the future by thinking of an appropriate starting point, which will help the conversation develop more naturally into a two-way discussion. A recent house move, the arrival of a new grandchild, or relaying a story about friends who have been through a similar experience are all good prompts for an open discussion.
2. Be open.
Families can sometimes fall out over the contents of a Will and disputes can cause unnecessary stress at an already difficult time.
Being open about your wishes and explaining precisely what you want to happen to your assets ensures everyone is aware of your intentions and reduces the chances of any future disagreements.
It is also worth approaching in advance anyone you want to play a particular role in your future estate planning.
This includes speaking to any potential executors of your Will. Depending on the nature of your estate, the role of executor can be time-consuming and complex, and it is worth checking they are comfortable with the role.
When you make an LPA, you need to appoint someone or several individuals to make decisions on your behalf if you lose the capacity to make those decisions for yourself. This can be a big undertaking, and it is advisable to discuss the role with your preferred attorney in advance to check they are willing to act for you if required.
3. Act sooner rather than later.
Making sure that you have all the necessary legal documents in place in good time is crucial. It is never too early to make a Will or LPA. Both act as valuable safeguards for your and your family's future.
Speaking to a solicitor who specialises in Wills, Trusts, and other inheritance issues can be extremely beneficial in ensuring you have everything in place and all bases are covered in relation to your estate planning.
Similarly, don't put off having conversations about your wishes with your family and friends. The sooner the topic is broached, the better. Sharing your wishes and plans with your loved ones means everyone is fully prepared for all eventualities.
Estate Planning Solicitors
At Russell & Russell, we help get your affairs in order by offering legal advice and support in several areas related to estate planning.
We're accredited by the Law Society's Wills and Inheritance Quality Scheme, which sets the benchmark for best practice and transparency in the provision of Wills and estate planning services.
In addition, all the department's solicitors are qualified members of Solicitors for the Elderly, an independent organisation of legal advisers who provide specialist legal advice for older and vulnerable people, their families and carers. The department is also a dementia-friendly business.
Russell & Russell have offices stretching across the North West – three in Bolton and one in Atherton, Bury, Chester, Farnworth, Horwich and Middleton. Although we pride ourselves on being a regional firm, our departments service clients throughout England and Wales.
To speak to our Wills team, please call 0800 103 2600 or make an online enquiry.
Please note that this article is meant as general guidance and not intended as legal or professional advice. Updates to the law may have changed since this article was published.