How to Ensure a Will is Legally Binding
31/08/2023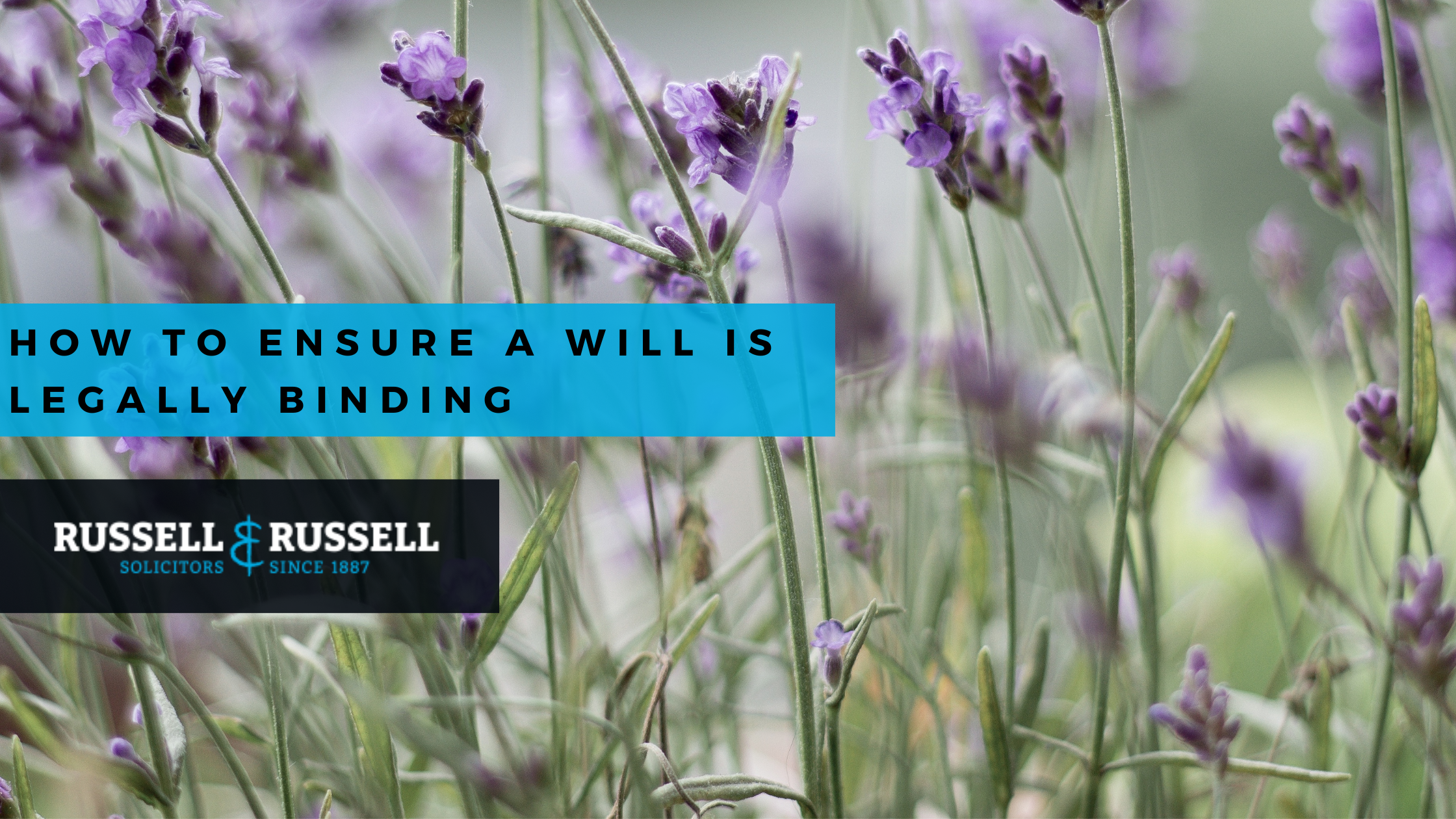 A Will is one of the most important legal documents you can make. It ensures you leave your money and possessions to the people you want to benefit from them and gives you the peace of mind that your loved ones are protected when you're gone.
Dying without a legal Will means that your estate is divided according to the rules of intestacy, where the government decides how to distribute your assets, which might not necessarily be how you want.
Making a Will can be relatively straightforward, or it can be more complicated, depending on your particular situation. No two Wills are the same, and it is always advisable to seek specialist legal advice to ensure your Will is tailored to your circumstances and to examine all possible contingencies.
Certain criteria must be met, and a Will must be carefully drafted to protect your wishes from any potential challenges later on.
In this blog, our team of Wills Solicitors looks at what you need to do to create a valid Will and reveals how an experienced solicitor can help protect your estate from future claims.
What is a Will?
A Will is a legal document that lets you decide what happens to your money, property and possessions after your death. Making a valid Will is the only way to ensure that your wishes are followed and your instructions are carried out.
Anyone over the age of 18 can make a Will, and everyone should have one, regardless of age or financial status.
Why is it important to have a Will?
There are many reasons why it is important to have a Will. Letting your loved ones know your wishes and ensuring they can easily access and follow your instructions provides everyone with much-needed peace of mind and protection.
Some of the benefits of a Will include:
You are in control. Setting out what you want to happen after your death and how you want your assets to be divided ensures the relevant steps are taken on your terms. Dying intestate means assets could be passed on to someone you did not intend to benefit, or that someone you want to inherit ends up with nothing.
It provides clarity. Appointing an executor to follow your instructions ensures that beneficiaries clearly understand your intentions and your wishes are carried out.
It protects your children. If you have children from a previous relationship and are now married, without a Will, your children may not inherit anything from you.
It provides security for loved ones. Unmarried partners cannot inherit from each other unless there is a Will.
It can minimise the amount of inheritance tax you have to pay.
What makes a Will legal?
Certain criteria must be met for your Will to be legally valid. You must:
Be aged 18 or over.
Make it voluntarily.
Be of sound mind.
Make it in writing.
Sign it in the presence of two witnesses over the age of 18, neither of whom, nor their married partners, are beneficiaries of your Will.
Have it signed by your two witnesses in your presence.
Witnessing a Will does not necessarily have to be carried out in person. In July 2020, during the Covid pandemic, the government introduced measures that allow for a Will in England and Wales to be witnessed over video link, such as Zoom or Teams.
The changes were retrospective from January 2020 and an announcement from the Ministry of Justice last month (27 June 2023) confirmed that remote witnessing has been extended until 31 January 2024.
Wills must be updated regularly to take into account changes in your circumstances, such as if you have children or get divorced. Marriage, or entering into a civil partnership, automatically revokes a Will that has been made previously, leaving it invalid.
You must follow the same signing and witnessing process for your Will every time it is updated.
What are some common mistakes when writing a Will?
It is easy to fall foul of the rules and there are numerous cases of Wills being challenged on the grounds of validity or execution.
Some common mistakes in making a Will include:
Not fulfilling the legal requirements mentioned above.
Failing to consider all the money and property available.
Failing to take into account that a beneficiary may die before the person making the Will.
Not following the correct process for changing a Will.
Being unaware of the effect of a marriage, divorce, or entering into or dissolving a civil partnership.
Failing to allow for the rules that exist for dependants, meaning that a Will could be overturned.
How can a Solicitor help write a Will?
An experienced solicitor can help ensure that a Will is legally valid, comprehensive, and takes into account all the necessary rules and requirements. At Russell & Russell, our Will writing solicitors have a wealth of knowledge in assisting clients with preparing their Wills.
We take the time to understand your circumstances and can advise accordingly, ensuring your wishes are met and that your family and friends are looked after when you die.
Seeking the help of a specialist Wills solicitor is particularly beneficial in some circumstances. These include if:
You share a property with someone who is not your husband, wife or civil partner.
You wish to make provision for a dependant who cannot care for themselves.
There are family members who may make a claim on the Will, for example, a second wife or children from a first marriage.
Your permanent home is not in the UK.
You are resident in the UK and own property overseas.
There is a business involved.
For more information about Wills, check out our Frequently Asked Questions, which you can find by clicking here.
Wills Solicitor Near Me
Russell & Russell Solicitors' Wills and Probate department has extensive experience in Will writing, probate and asset management.
We are also accredited by the Law Society's Wills and Inheritance Quality Scheme, which sets the benchmark for best practice and transparency in providing Wills and estate planning services.
For detailed information about our Wills and probate costings, please click here.
Or, to speak to one of our specialist Wills solicitors, please call 0800 103 2600 or fill in our online contact form.
Please note that this article is meant as general guidance and not intended as legal or professional advice. Updates to the law may have changed since this article was published.