Personal Injury Team Spotlight: Daniel Dickinson
05/09/2023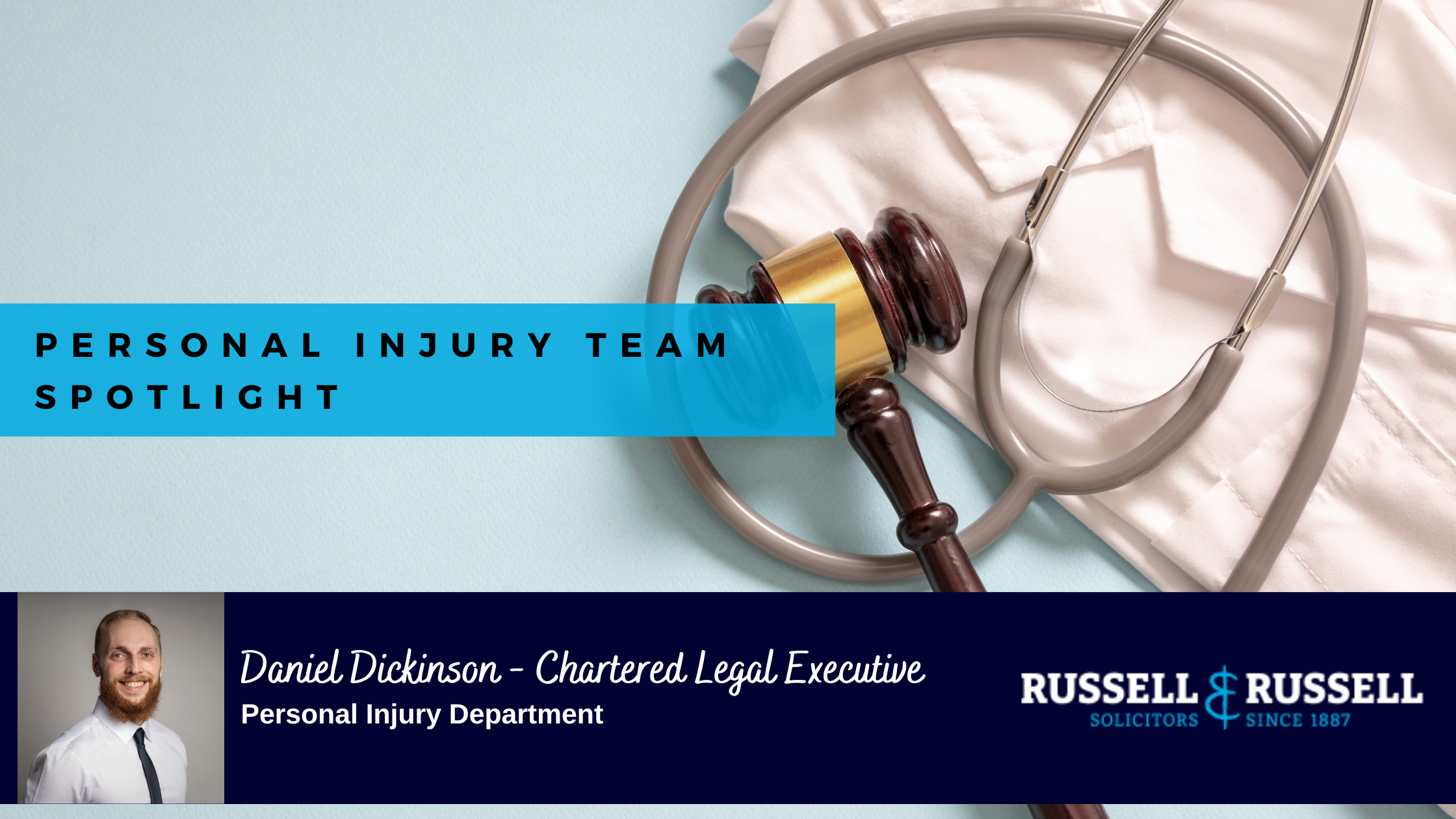 In our latest profile feature, where we learn more about the Russell & Russell team, we meet personal injury specialist Daniel Dickinson.
Daniel joined Russell & Russell in April 2013 as a trainee administrator in the Bury office before moving to our Personal Injury department in 2016.
He is now based at our Middleton office, assisting partners and solicitors with various types of personal injury claims, as well as handling his own caseload.
Here, Daniel tells us more…
What is your job title and experience?
I am a Paralegal, and I have seven years of personal injury experience.
What areas of law do you specialise in?
I practise personal injury law, and specialise in road traffic accidents, public and occupiers' liability, accidents at work, untraced/uninsured road traffic accidents and criminal injury claims.
Why did you decide to work in the legal industry?
I have always been interested in working in the legal industry. My father was a Police Officer, so I originally wanted to emulate him and when I was a child had wanted to work in the police.
I studied Law at college and then commenced work with Russell & Russell. I later resumed my studies with the Chartered Institute of Legal Executives (CILEx) in 2018 to attain my legal qualifications.
When and where did you qualify?
I studied through The Manchester College from September 2017 until January 2022. I qualified as a Graduate member of the Chartered Institute of Legal Executives (GCILEx) in October 2022.
I am currently compiling my Work-Based Learning Portfolio, which will enable me to apply to become a Fellow of the Chartered Institute of Legal Executives (FCILEx) and acquire the full title of Chartered Legal Executive.
How long have you been at Russell & Russell?
I joined Russell and Russell in April 2013 as a Trainee Administrator assisting the Family and Personal Injury departments, and in January 2016 I joined the Personal Injury department as a Paralegal.
I moved to our Newport Street office in Bolton in September 2020 and moved to our Middleton office in June 2022.
What do you enjoy most about your work?
The thing I enjoy most about my work is recovering compensation for my clients for their injuries and losses. I understand that my clients are going through a particularly stressful period, and I enjoy representing my client's case, whether that be in discussions over liability or negotiations over the amount of compensation my clients are awarded.
What do you find most challenging about your job?
There is nothing I find particularly challenging on a day-to-day basis. Issues sometimes arise which require careful analysis but overall, I enjoy the challenges.
What is the most memorable case you have worked on?
The most memorable case I worked on concerned a Road Traffic Accident where my client sustained whiplash and non-whiplash injuries. The claim proceeded under the new 'RTA Small Claim Protocol'. Liability was admitted, but the defendants and I were unable to agree on the level of damages my client was to be awarded.
The main dispute was whether my client's whiplash and non-whiplash injuries should be included in the same award or whether they should be assessed separately. I maintained that they should be assessed separately.
Fortunately, the Court of Appeal passed judgement in the leading case of Rabot v Hassam & Briggs v Laditan (2023), which is very favourable to a claimant's position. Regrettably, the defendants and I were unable to agree, and the matter proceeded to a hearing whereby the judge confirmed the approach I had taken was correct and awarded my client favourable damages. This was a particularly pleasing result for me as I felt a sense of achievement.
Another very memorable case concerned a client who contracted aspergillosis (a type of fungus) from cleaning a mouldy cellar. The particularly memorable part of this case were the discussions I observed between counsel and the medical expert, a consultant public health physician and medical epidemiologist in infectious diseases, which concerned the incubation period of the disease, the exposure to the disease and other pathogens, and the level of damage caused to the client's health by the disease.
What are the most common sorts of cases you deal with?
The most common sorts of cases that I deal with are Low-Value Road Traffic Accidents involving whiplash injuries. I handle all the Low-Value Road Traffic Accidents which fall under the new 'RTA Small Claim Protocol'.
What are your ambitions for the future?
My ambitions for the future are to continue developing my own knowledge and skills, progressing within the firm, and expanding on my case load to include higher-value matters.
What are the main challenges facing personal injury lawyers today?
The main challenges facing Personal Injury lawyers today, from my perspective, would be the introduction of the new 'RTA Small Claim Protocol', which essentially restricts the amount of damages a claimant can be awarded to a fixed tariff under the Whiplash Injury Regulations 2021.
The 'RTA Small Claim Protocol' also extinguished the ability to recover fixed costs and so claims which fall under the RTA Small Claim Protocol have become much less valuable.
I also have concerns over the impending implementation of the 'Intermediary Track', which will introduce fixed costs for cases valued between £25,000–£100,000. I feel this will drive these types of claims in a similar direction as those which currently fall under the RTA/ELPL Pre-Action Protocols which are already subject to fixed costs.
Another emerging challenge for Personal Injury lawyers is the increasing trend of defendants to allege that a claimant is being 'fundamentally dishonest'. This is, essentially, an allegation that a claimant is fabricating and/or exaggerating a claim and/or losses.
The trend I have noticed is that defendants are alleging fundamental dishonesty simply because the claimant has been unable to prove their claim (or an aspect of their claim) on the balance of probabilities.
This may be because the claimant doesn't have evidence to support their claim and/or losses or the medical evidence isn't as favourable as anticipated.
Ordinarily, a claimant would have the protection of Qualified One-Way Costs Shifting which prevents a defendant from enforcing an Order for Costs without the permission of the Court.
However, an allegation of fundamental dishonesty has serious ramifications about a person's credibility. Regrettably, there is little punishment for defendants who carelessly allege fundamental dishonesty which is later held to be unfounded.
What skills do you need to be a successful lawyer?
I believe that the skills needed to become a successful lawyer are: a tenacious work ethic, attention to detail, good communication and listening skills, and the drive to always seek the best possible outcome for your client.
What advice would you give someone who wants to become a solicitor or work in the legal industry?
I would advise someone who wants to become a solicitor and/or work in the legal sector that the role is not without its trials and tribulations. However, overall, it is very rewarding as you get to help people through difficult and often emotional situations and see the final product of all your hard work throughout the matter.