Are E-Scooters Legal in the UK?
06/10/2023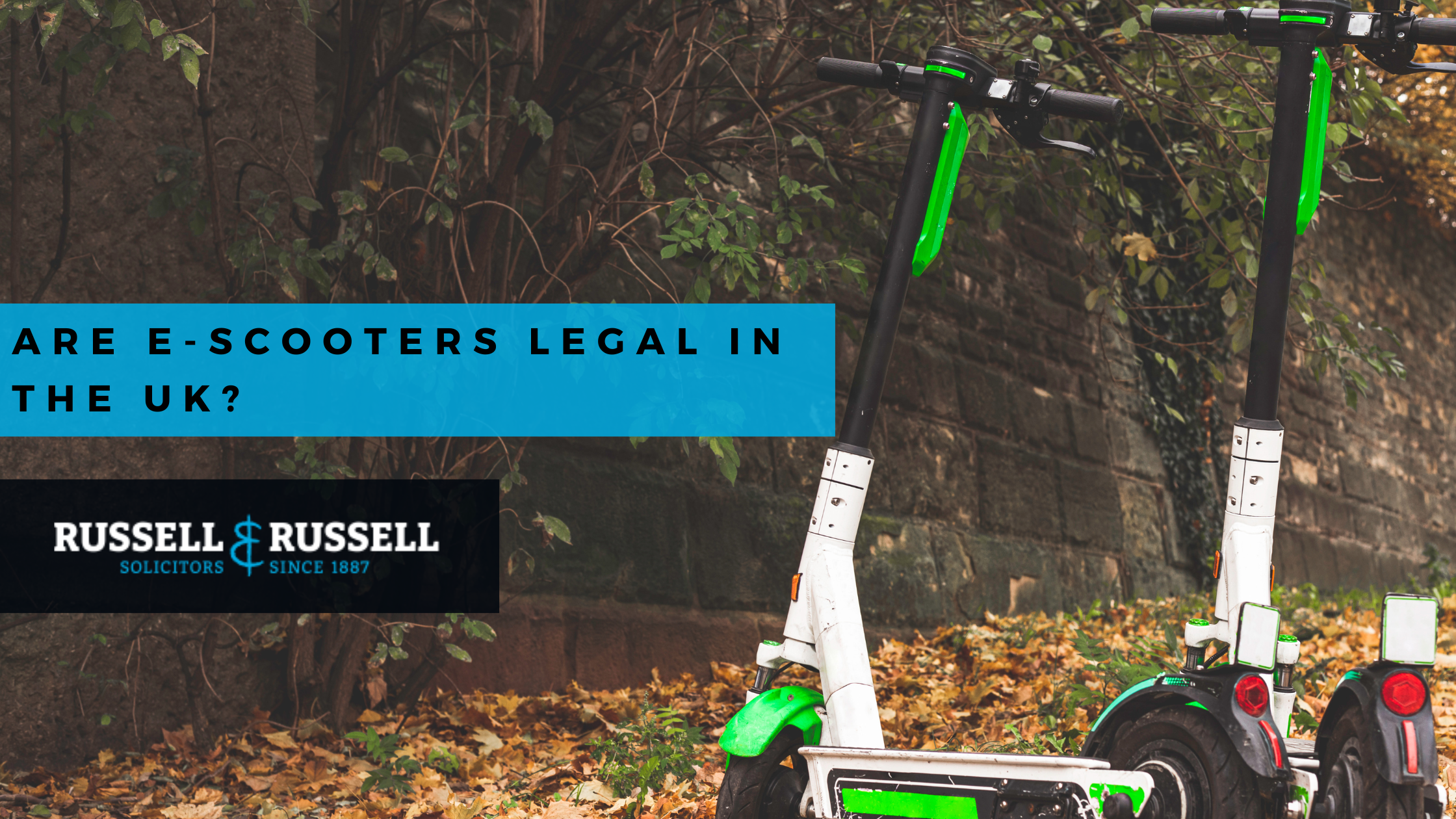 Maybe you have seen one abandoned on the side of the road. It could be that you have had to jump out of the way of one coming up behind you. Or perhaps using one has completely transformed your daily commute and you are now unsure how you'd live without it.
Electric scooters (or e-scooters as they are more commonly known) are increasing in visibility around the UK and regularly appearing on high streets (and pavements) across the country.
Some view them as a blessing: a convenient and environmentally friendly mode of transport to get from A to B. Others see them as a curse: the scourge of pedestrians when driven erratically and a trip hazard when discarded irresponsibly.
But love them or loathe them, it looks like they are here to stay. At the end of 2022, it was estimated that more than 750,000 private e-scooters were in use in the UK, with the Bicycle Association suggesting that as many as 360,000 were bought in 2020 alone.
However, despite their popularity, considerable confusion still exists about this divisive form of transport, and many people are still unsure about the laws that govern their usage.
In the following blog, our Personal Injury Solicitors answer some frequently asked questions about e-scooters and consider their legal status in the UK.
What is an e-scooter?
Electric scooters fall under the category of 'powered transporters', which covers a range of personal transport devices powered by a motor, according to the Metropolitan Police.
E-scooters are classed as motor vehicles under the Road Traffic Act 1988. This means that the rules that apply to motor vehicles also apply to e-scooters, including the need for at least a provisional licence and insurance.
However, getting insurance for privately owned e-scooters is currently not possible, which means that it is illegal to use them on the road or in public spaces. Using a private e-scooter means you risk the vehicle being seized for no insurance under the Road Traffic Act 1988.
Are e-scooters legal?
E-scooters are legal to own in the UK. However, as it is not possible to get insurance for privately owned e-scooters, as it stands, they can legally only be ridden on private land with the landowner's permission.
If you use an e-scooter illegally:
You could face a fine.
You could get penalty points on your licence.
The e-scooter could be impounded.
What happens if you are involved in an accident with an e-scooter?
Accidents involving an e-scooter will be investigated in the same way as if you were riding a motorcycle or driving a car.
The UK government views e-scooter users as a 'vulnerable' user group that is particularly susceptible to injuries.
Provisional data from May 2023 about e-scooter accidents in 2022 found that last year:
There were 1,369 collisions involving e-scooters, compared to 1,352 in 2021.
Of all collisions involving e-scooters, 342 included only one e-scooter with no other vehicles involved (single-vehicle collision).
There were 1,458 casualties in collisions involving e-scooters.
Of all casualties in collisions involving e-scooters, 1,117 were e-scooter users.
Twelve people were killed in collisions involving e-scooters (11 of whom were e-scooter riders).
If you are involved in an accident with an e-scooter, either while riding it or as a pedestrian, you should get specialist legal advice at the earliest opportunity.
If an e-scooter is being ridden irresponsibly in a public space, for example, on a pavement or through a red light, the rider will usually be responsible in the event of an accident.
Russell & Russell's experienced personal injury solicitors can advise you on the best way to proceed. To speak to one of our specialist lawyers about e-scooter accidents, please call 0800 731 7555.
When will e-scooters become legal to use on roads and pavements in the UK?
The increased demand for e-scooters prompted the government to open a consultation in 2020 on how to regulate them. This consultation found overwhelming support for the legalisation of e-scooters and general acknowledgement that clear regulations are needed.
In May 2022, plans to fully legalise e-scooters for private use were included in the Queen's Speech. The UK government is currently working on details of the regulations required to enable the legalisation of private e-scooters on public land.
Although the government planned to introduce legislation to allow the government to regulate e-scooters in the 2022–23 session, this has now been delayed. It is now expected that legislation governing the usage of private e-scooters on the UK's pavements and roads will be brought into force during 2024.
There are indications that the planned legislation will create a new category of low-speed, zero-emission vehicle category, independent of the cycle and motor vehicle categories, to include e-scooters.
If they are illegal, why do I see so many e-scooters on the pavements and the roads?
As part of its consultation into e-scooter use and to support a 'green' restart of local travel, in July 2020, the UK government allowed trials of rental e-scooters to be fast-tracked and expanded.
The trials are now live in 31 regions across England, including Liverpool, Chester, and Salford, as local authorities work with rental providers to test the viability of e-scooters as a safe and effective mode of transport.
To rent an e-scooter under one of the available schemes, you must meet a minimum age limit, hold the correct driving licence (category Q or P/M) and create an account with the rental company. Insurance is provided by the electric scooter rental operator.
Trial e-scooters are limited to a maximum speed of 15.5mph and can be used on roads and in cycle lanes. You cannot use e-scooters on a motorway or pavement.
Personal Injury Solicitors
If you have been involved in an accident with an electric scooter, or have been accused of causing an accident when riding an e-scooter, Russell & Russell can help.
Compensation claims for e-scooter accidents work in much the same way as if you were hit by a car or a motorbike. Our experienced personal injury solicitors can advise you on how to proceed.
We help clients across England and Wales and offer a friendly and personal service that is tailored to your needs and situation.
We work on a no-win, no-fee basis, dealing with all personal injury types ranging from minor incidents to life-changing accidents.
The process of making a compensation claim for a personal injury can be complex and lengthy. Our experienced team will guide you through the process, supporting you every step of the way to secure the best possible outcome.
To speak to one of our personal injury solicitors, please call 0800 731 7555 or make an online enquiry.
For more information about our Personal Injury practice, click here.
Please note that this article is meant as general guidance and not intended as legal or professional advice. Updates to the law may have changed since this article was published.