Top Tips for Remortgaging
09/10/2023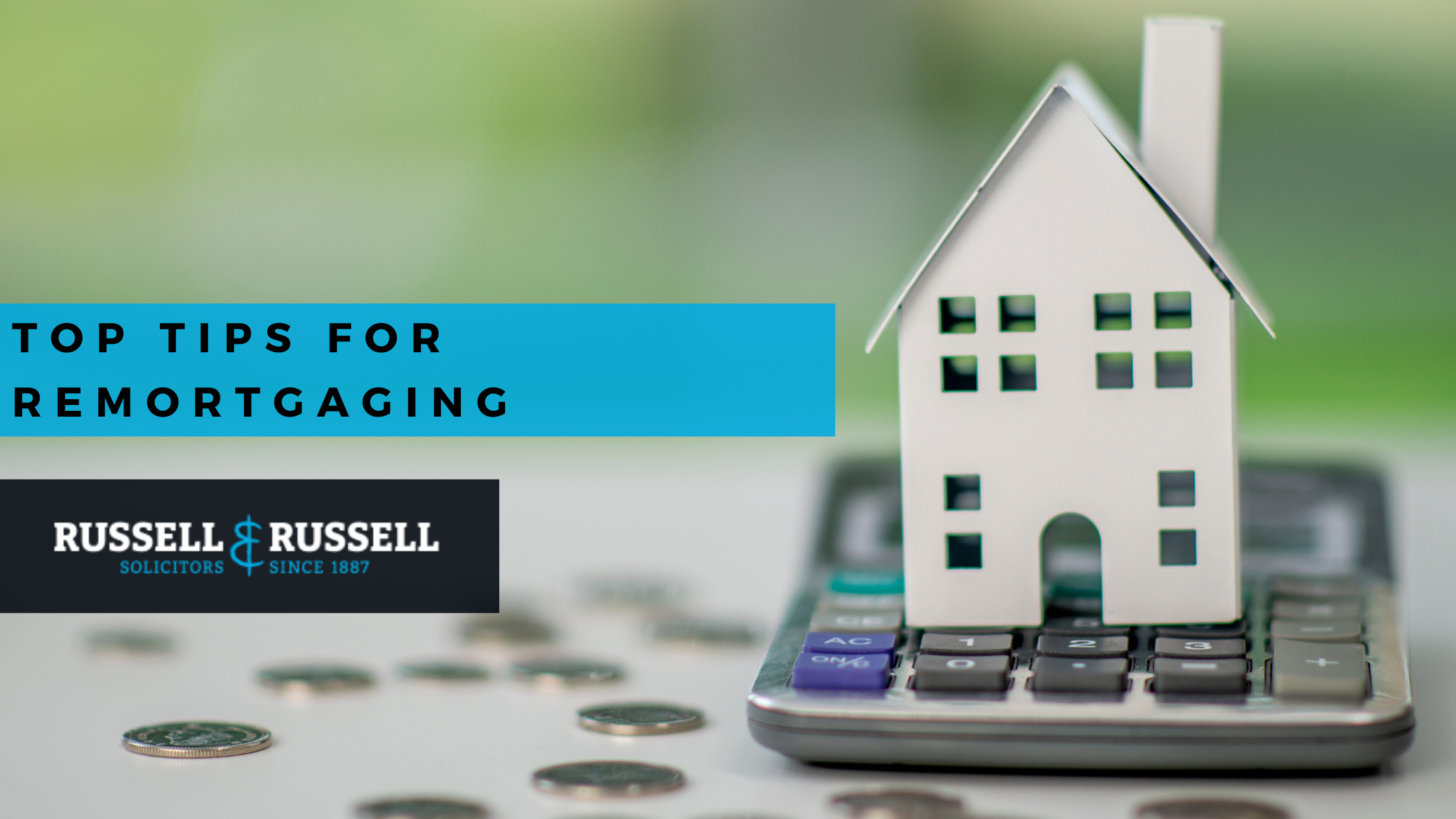 Mortgages have been a hot topic of late. However, not much of the news has been positive. High inflation, rising interest rates, and a cost of-living crisis has fuelled talk of a 'mortgage ticking time bomb' waiting to go off.
Homeowners are understandably nervous. With 2.4 million fixed-rate mortgages expiring by the end of 2024 and uncertainty rife, many people are looking to remortgage but are still trying to figure out what to do for the best.
Here, our specialist remortgage solicitors give their top tips for remortgaging.
A mortgage is a secured loan from a bank or building society that lets you buy a property. A typical fixed-rate period for a mortgage term is between two and five years.
When this ends, you can choose to remortgage, which is the process of moving your home loan to a new deal with another lender or committing to a different one with your existing lender.
For the past few years, mortgage rates have been running at around 2% in England and Wales. However, similar deals are currently at the 6% mark, which has led to fears that many borrowers will see a huge hike in their mortgage payments when they remortgage.
It is an uncertain time, but there are several steps all homeowners can take to ensure they secure the best deal.
1. Give yourself time.
If you are on a fixed-term mortgage arrangement, you need to secure a new deal before your existing one comes to an end. Otherwise, your current lender could move you to the standard variable rate, which is generally higher and more expensive.
Ideally, homeowners should start considering remortgage options between three and six months before your deal ends.
2. Do your sums.
Undertaking a financial health check is crucial in the run-up to remortgaging. This should involve considering all your existing and future financial obligations, including:
Income.
Assess your circumstances. Has your situation changed since you last secured a mortgage? Having a child, paying off a loan, or having had a pay rise at work will all affect how much you can afford to pay for a monthly mortgage.
Outgoings. Allow for regular expenditure such as gym memberships, mobile phone fees and household bills. Is there anything you can cut back on? Or anything you have committed to that might be an additional expense in the future?
Weigh up your options. Establish how much you would need to pay each month for different mortgage deals.
Factor in additional fees and charges, such as early repayment charges, exit fees, legal fees and valuation fees.
3. Do your research.
Don't just automatically commit to another deal with your existing lender because it is the 'easy' thing to do. Shop around. Transferring lenders may mean substantial savings.
Consider whether you want a variable or a fixed-rate mortgage that is repayment or interest only and research the best rates on offer.
4. Instruct an experienced remortgaging solicitor.
A professional and experienced conveyancing solicitor will be able to walk you through the entire conveyancing process involved in remortgaging.
Our remortgaging solicitors at Russell & Russell have helped numerous clients remortgage and take care of the entire legal process involved. The remortgage conveyancing process can be complex. You must provide certain information and documentation, and specific legal requirements must be met.
The key legal stages involved in remortgaging are:
Once you have instructed your solicitor, the usual Identity and Anti-Money Laundering checks are undertaken.
Title deeds, mortgage redemption figures (if you have a mortgage) and other required information are gathered from you.
Any searches required by the new lender are carried out by your conveyancer, which may give rise to further enquiries that you may need to assist in answering.
In anticipation of completion, we will arrange for you to sign the new mortgage deed and obtain and check your mortgage redemption statement to ensure there is enough money to redeem your mortgage.
A target completion date is agreed upon, and your solicitor requests the new mortgage advance from your new lender.
On the day of completion, the new lender will send the mortgage monies to our bank account. Once this is received, your conveyancer will attend to the redemption of your mortgage. Your solicitor will then transfer the necessary funds to your bank account and notify you that everything has been completed.
If you need to remortgage, and are unsure of the best way to proceed, get in touch with Russell & Russell today. Our friendly conveyancing solicitors are based in the North West of England and help clients nationwide.
Call 0800 103 2600 to speak to one of our team, or click here to request a call back. Initial advice is free.
5. Don't settle for the first offer.
Most homeowners will be contacted by their existing mortgage lender around six to nine months before a fixed deal ends and are offered a new rate (a 'product transfer'). It might be tempting to accept this deal as you are familiar with the lender, and it is convenient. Don't.
In such a volatile market, rates are changing rapidly and it can pay dividends to keep a close eye on different products from an array of lenders before committing to anything.
However, by the same token, delaying committing to a new deal in the hope that interest rates fall is also a risky strategy. Leaving remortgaging to the last minute could result in households being moved to their lender's standard variable rate.
Ideally, homeowners should try to secure a new deal in principle around six months before the existing deal ends but continue to keep an eye on interest rates. This way, if a better deal comes along, there is still time to ensure a new application is processed before the existing deal ends.
Remortgage Solicitors Bolton and Chester
At Russell & Russell, our specialist property lawyers are best placed to help you through the process of remortgaging.
We have a wealth of experience and knowledge of all aspects of property transactions, whether freehold or leasehold, a flat, a house or just land.
We are transparent about the costs involved and always provide a written estimate at the outset of a transaction.
Our experienced team of solicitors offers efficient, convenient and cost-effective remortgaging services from our offices in the North West, undertaking work for clients in the local area and across England and Wales.
The firm is accredited under the Law Society Conveyancing Quality Scheme, which is the recognised quality standard for residential conveyancing practices.
For more information, or to speak to one of our residential property specialists, please get in touch with Russell & Russell Solicitors. Call us on 0800 103 2600 or make an online enquiry.
Please note that this article is meant as general guidance and not intended as legal or professional advice. Updates to the law may have changed since this article was published.